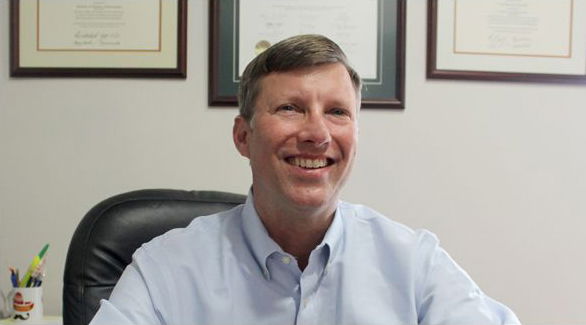 I pride myself on explaining things to clients. If clients don't understand something about their claim, they can't make good decisions. We try to explain things in detail during mettings and in correspondence. We want you to know and understand what's going on.
- Brooks Schuelke
For 20 years, our personal injury clients have trusted us to help get them the benefits they deserve.
Client Testimonials
I cannot thank attorney Brooks Schuelke enough.
After I dealt with him about my case, i learned about him. He's a great man, a real professional, who is honest and caring. In these times its difficult to find people who have these characteristics. I felt I was in good hands, and really I was in great hands. He did great. I wish there were more people like Mr. Schelke, because it would make a difference in the world. Thank you Mr. Schuelke, I really cannot thank you enough. And God bless you and your family.
– Sal L.
---
He is your guy!
My husband went through a terrible car accident and injuries. The insurance company treated him horribly! My husband has a friend that is a lawyer that recommended attorney Schuelke to help him to deal with the insurance company and my God did he do a fantastic job! My husband can't stop talking about how great he is. To anyone who has a problem with the insurance company in relation to accidents, he is your guy!
– Olivia Love
---
Brooks and the entire staff are great.
Brooks made us feel at ease, which gave us one less thing to worry about while representing us. He was very prompt in responding to my family and I, if we had any questions or concerns about anything. I must say that Brooks fought hard for us at the same time he remained caring and compassionate. I highly recommend Perlmutter & Schuelke if you are looking for legal representation, they are awesome!
- Angela Robinson
---
Brooks was wonderful to work with.
I felt he gave honest and realistic advice, and always let me make my own decisions with as much information as he could provide.  He and his staff were exceedingly caring and accommodating of my medical issues and always went out of their way to make sure that everything was as easy as possible for me with my restrictions.  I highly recommend him and I'll be referring any friends to him that need his services!
– Miriam Keaton (a personal injury client)
---
Our experience was, all circumstances considered, made leagues better by Brooks
We were referred to Brooks Schuelke by a colleague, and without any prior experience with attorneys, were apprehensive about the process. Brooks came to visit with us at our home, and his approach put our family at ease... He set expectations about the legal processes that we would encounter, as well as provided us with regular updates regarding his correspondence between all of the private parties and insurance companies, and briefs that allowed us to make educated decisions about our options regarding our case. He was sensitive to the nature of our case, as it included injuries sustained to our adolescent daughter, and he treated all of us with equal measure of kind dignity and straightforward assessment of the strength of our case. Our experience was, all circumstances considered, made leagues better by the Brooks and the staff at Perlmutter and Schuelke, and gave us both a process that was manageable and an outcome that has provided our daughter with a measure of resolution and security for her future. We would, without reservation, recommend them to anyone in need of their services, and would be happy to discuss our experience with any potential clients.
- Jonathan White
---
I unequivocally recommend this firm!
I experienced a devastating event. After doing research on my behalf, in the legal community, my lawyer friend recommended Brooks. I have never doubted his expertise or experience. As an aside, as time went on I discovered he is active in his church, participated in mission trips, Scouts, etc . I felt reassured having a genuinely good human being represent me. His calm demeanor and patience proved to be crucial for me as I had a head injury. I have said time and time again "he knew me better than I knew myself". Having knowledge of brain injury Brooks would politely answer or quiet my demands on a frustrated day to "settle this thing now". It is imperative you don't settle early on. Some issues and symptoms may be late to surface. My cognition and self awareness was off for quite some time. A less thorough attorney may negotiate a quick or early settlement, this is not in your best interest. The extentsive preparation, research, and use of resources Brooks and his team utilized was phenomenal! I unequivocally recommend this firm!
- Becky Savvas
---
Brooks Schuelke was a huge asset...
in helping me win back my music property from a company in Los Angeles that had broken their contractual agreements with me. With finesse, clarity, and swift legal attention, Mr. Schuelke was able to end what had become a huge headache (and heartache) so I could move forward with master recordings I had licensed but completely owned.  I wholeheartedly endorse Mr. Schuelke without a moment's hesitation.
– Sara Hickman (Official State Musician of Texas, Mom, Producer, Singer, Songwriter)
---
Dear Brooks and Staff,
I would just like to say thank you all for doing such a great job on my case.  If I should ever need any legal help, you will be the first person I will call.  I will recommend you to my friends that may need legal advice.
Thanks again for all the help.
– Greg, a personal injury client
---
Mr. Mark Perlmutter and Mr. Brooks Schuelke helped me with my case and they were by far without description beyond anything that I could have asked for.
They were extremely helpful, caring, concerned, competent, efficient and quick to respond to my needs. They are the finest attorneys. They deserve GOLD MEDALS as attorneys and as responsible, loving citizens. I can't thank them enough.
— an Austin Volunteer Legal Services client
---
Brooks, 
You and your whole staff were great through all this, and really turned what was a horrible situation right around.
I came into this not knowing anything about what was possible for me, and you guided me through all of this in a way that made me feel like my decisions were well educated as possible….Over-all, I would have to say I had the best experience possible with the situation. Truly thank you, and to all your staff thank you, you guys are totally awesome!
– a personal injury client
---
Mark and Brooks worked with me and my family for over 3 years...
on both a business litigation case and an automobile collision case. Both of those resulted in successful settlements for our family. Not only were they professional, but they helped me in a very personal way through the stressful process of litigation. I consider them the most ethical attorneys I've ever met and recommend them highly!
— a former personal injury client
---
When I left my Aunt's baby shower to get some paper plates and utensils, I did not realize that I'd be in physical therapy for four months trying to regain use of my back, thanks to a drunk driver.
Mark and Brooks took my case and held the person accountable for the accident, but went beyond that by ensuring I was receiving the proper medical treatment for injuries I sustained.
They were not only excellent attorneys, going above and beyond my expectations, they were also genuine and truly concerned with my health. Thanks to Mark and Brooks I was able to walk down the aisle this past May, in heels, without pain in my back. To them, I say thanks again for all that they did.
— a former personal injury client
---
Perlmutter & Schuelke came highly recommended and exceeded my expectations.
What mattered to me most was the genuine concern for my situation and the dedication to ensuring a successful conclusion. I will be eternally grateful to the attorneys and their staff as well.
— a former personal injury client
---
I was quite pleased with Mark's representation.
He was prudent with his advice, accurate in his assessments, and fair and gracious with his billing. I particularly appreciated the fact that he was not defensive when confronted with an opinionated woman (me) who asked many questions…. It was as positive an experience as possible when in a contentious relationship with the other side.
— a plaintiff in a securities case
---
I don't feel that you could have done a better job! You guys are Great!
— an Austin sexual harassment client
---
Thank you, thank you, thank you! I am very impressed with your skills.
I haven't spent much time in courtrooms, but compared to the [the other sides], you were so much better prepared. Your presentation and your well-researched case and argument were absolutely superior. I don't want anyone I know to enter litigation, but if the need arises, I'll be sure to refer them to you.
— a business litigation client
Results matter
For 20 years, the personal injury attorneys at Schuelke Law have been helping accident victims and their families recover damages and get their lives back. Get the benefits you deserve. Get the respect you deserve. Contact Schuelke Law now and setup an appoinment. We are dedicated to improving the public perception of lawyers, one client at a time.

Brooks Schuelke was a huge asset. I wholeheartedly endorse Mr.Schuelke without a moment's hesitation.
-Sara Hickman
FREE CONSULTATIONS. NO FEE UNLESS YOU WIN