Damages That May Be Recovered In Texas Personal Injury Claims
Reasonable Expenses for Necessary Medical Care
To be entitled to reimbursement for medical expenses, an injured person must prove he or she needed the medical care because of the incident and that the charges were reasonable. Defendants and their insurance companies often attempt to argue that charges were not related by pointing to previous injuries that might have contributed to the charges or by arguing that the doctors were just running up the bills.
Physical Pain and Mental Anguish
Evidence of pain and mental anguish can come in many forms. For example, most injured persons can rely on excerpts of doctor's records where the patient complained of pain, and testimony from others about how the injured person was enduring pain and mental anguish. Occasionally, parties do not suffer pain, but do endure mental anguish. In these situations, the party must prove that he endured something more than mere worry. For example, an injured person may introduce evidence of uncontrollable crying, sleeplessness, or a change in personality.
Loss of Earning Capacity
Loss of earning capacity includes lost wages or lost work time. If a person is paid hourly or salaried it is usually easy to calculate lost wages. On the other hand, business owners, professionals, commissioned workers, artists, musicians, and athletes present special challenges to determining lost earning capacity. Please call us for more information.
Physical Impairment
An injured party may also be compensated when an incident limits the person's activities. These activities include everything from personal hygiene, dressing and household chores, to the inability to exercise or pursue hobbies.
Disfigurement
An injured party is also entitled to recover damages to compensate for any disfigurement, such as scarring or lost limbs.
Injuries to Spouse
If a spouse is injured in an incident, the other spouse may be able to recover damages for loss of household services and loss of consortium — the loss of the right of spousal affection, comfort, sex, and companionship necessary for a successful marriage.
Bystander Cause of Action
A person who witnesses an incident that injures his or her mother, father, child or sibling may be entitled to compensation for the mental anguish endured by watching the incident.
Exemplary Damages
An injured party may be entitled to exemplary damages if there is proof that the defendant acted with malice or if the party can show entitlement to exemplary damages based on other theories or statutes. Although awards for exemplary damages receive a lot of publicity, these awards are relatively rare. If the injured party is able to prove entitlement to exemplary damages, the amount of the recovery is generally limited by statute depending on the extent of the person's damages.
LEARN MORE ABOUT SERIOUS PERSONAL INJURY CASES
Holding Wrongdoers Accountable
Learn more about car insurance in Texas and what you can do to avoid common accident claim mistakes with these free resources.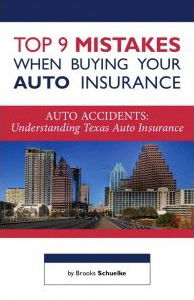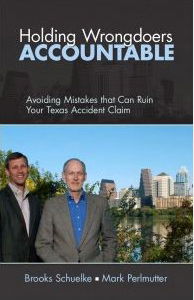 Brooks Schuelke was a huge asset. I wholeheartedly endorse Mr.Schuelke without a moment's hesitation.
-Sara Hickman
FREE CONSULTATIONS. NO FEE UNLESS YOU WIN