Two questions affect how your property damage claim will be resolved.
The insurance companies generally have the choice to decide whether they want to attempt to repair your vehicle or whether they will total it. This decision will dictate how you proceed.
Resolving Your Property Damage Claim
The two biggest questions in resolving automobile property damage claims are:
(1) Can your vehicle be repaired or is it totaled?
(2) Does the other party have insurance?
The insurance companies generally have the choice to decide whether they want to attempt to repair your vehicle or whether they will "total it" — pay you the current market price for the vehicle instead of having it repaired. Once they make that decision, it will dictate how you proceed.
If the Car Will be Repaired
In most instances, the person who hits you will have insurance, and the insurance company will choose to repair your car instead of replacing it. If that's the case, the first two steps are to get an estimate from the insurance company and to find a body shop to make the repairs. While the insurance company may recommend their preferred body shops, you are free to choose the body shop that you trust.
Once you have the estimate and have chosen the body shop, the process usually runs fairly smoothly. While the original estimate is rarely accurate, most body shops and insurance adjusters will work well together to work out the differences. But to protect yourself, make sure you tell your body shop not to do any work without your approval if that work, for some reason, will not be paid for by the insurance company.
The opposing party's insurance company will also pay for a rental vehicle. In most cases, the vehicle will be a modest standard car. However, in some cases, it is important for the client to have something other than the standard vehicle. For example, you may be a construction worker and need a pickup, or you may have four kids and need a mini-van. In those instances, the insurance company should provide you with a comparable vehicle. In some instances, there are disputes about how long the client should have rented a vehicle. To avoid this, do your best to not try and take advantage of the situation. Call the body shop to make sure they are repairing the vehicle in a timely manner, and keep in contact with the property adjuster so you do not have any surprises at the end of the rental.
The opposing party's insurance company may also be liable for any decrease in value of your vehicle that results from the wreck. If you believe your vehicle's value has significantly decreased, you should get some estimates from dealers or others that can help you prove this loss of value to the adjuster.
If your vehicle is repairable, but the other party does not have insurance, then you may make a claim on your policy if you have applicable coverage. If you have purchased both collision coverage and uninsured/underinsured motorist (UM/UIM) coverage, you will have the option of making a claim on the collision portion of your coverage or the UM/UIM portion of your policy. The key considerations in making that decision is which portion of your coverage has a smaller deductible, what are your policy limits for each coverage, and whether you have rental car coverage on your collision coverage.
All things being equal, you would normally choose to use the portion of your coverage with the smaller deductible, but often, things are not always equal. One factor is the limits of the coverage. On each provision of your policy, there is a maximum dollar value that the insurance company can be forced to pay regardless of the amount of damage to your vehicle. Occasionally, your collision and UM/UIM limits will be different. If the damage to your vehicle is significant, then the amount of the limits for each portion of the policy may dictate which avenue you choose.
Finally, if you have not purchased rental car insurance as part of your collision insurance, then you will be obligated to pay for a rental vehicle. However, if the claim is made under the UM/UIM provisions, then the insurance company is obligated to pay for the rental coverage.
If you are making a claim on your own policy, then you are not entitled to loss of value to the vehicle.
If the Vehicle is Totaled
If the cost of repairs exceeds the value of the vehicle, then your insurance companies will "total" the vehicle, and they will be obligated to pay the market value of the vehicle plus tax, title and license to purchase a comparable vehicle.
Generally, the biggest dispute when a vehicle is totaled is what is the value of the vehicle. Insurance companies have traditionally used the Kelly Blue Book or the NADA guide to determine values. In recent years, they have turned to services that offer computer valuations of vehicles. Since these services' main customers are insurance companies, there is good reason to be suspicious about the values provided.
In the past, people did not have many good alternatives for disputing the values offered by the insurance companies. However, in this day and age of the internet, you will be able to do your homework and have a good idea of the value of your vehicle. Both NADA.com and intellichoice.com offer average retail prices for vehicles. In addition, sites such as autotrader.com let you search for vehicles for sale within 50 or 100 or more miles from your zip code. These sites will let you get and idea of what a replacement vehicle actually costs in your area. With a little research, you should be able to get some documentation and present something to the adjuster to attempt to maximize the value offered to you.
Unfortunately, when your vehicle is totaled, insurance companies are not obligated to pay for your rental fees, though many will pay for a vehicle until they make an offer to you. As a result, it is important to do as much work as possible as soon as possible so you do not incur any unnecessary fees.
Other Property Damage Tips
1. Do not sign any property damage release until you are satisfied. Once you sign a release, you will not be able to pursue any additional damages. In most cases, the release will be a separate document, but occasionally, insurance companies will try something underhanded like putting a release on the front or back of the check or by making check notations of "full and final settlement."
2. Do not sign a bodily injury release while negotiating your property damage claim. Again, some companies will attempt to obtain a release for personal injury claims when negotiating property damage claims. If you have any doubt about whether the release is proper, please have it reviewed by an attorney. Again, watch for notations on settlement checks.
3. Just because the other party has insurance does not mean you have to make the claim with them. Occasionally, other parties are extremely difficult to deal with. In that case, if you have collision coverage, you have the option of making a claim on your policy. Your company will then file a claim against the other insurance company and will seek reimbursement for what they paid and for the deductible you paid.
4. Be wary of the statute of limitations. In Texas, automobile claims generally have a two year statute of limitations. If you have not resolved your claims in that time, then you must file suit against the person or entity that hit you within two years or you will lose your rights to sue.
5. Take photos of your vehicle. Photographs can be critical to your case so take photos of your vehicle before it is repaired or before the insurance company takes possession of it. Photograph the entire vehicle from all angles first, then take close-ups of all damaged areas.
INSURANCE COMPANIES DON'T WANT YOU TO KNOW:
Insurance payouts to people injured through negligence are
3.5x Higher
with an attorney
Settlements for auto accident victims are
40% Higher
with an attorney
You have one chance to earn
maximum
recovery
for your injuries & suffering
LEARN MORE ABOUT AUTO ACCIDENTS
Holding Wrongdoers Accountable
Learn more about car insurance in Texas and what you can do to avoid common accident claim mistakes with these free resources.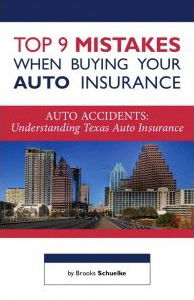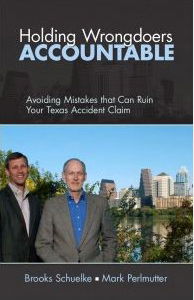 Brooks Schuelke was a huge asset. I wholeheartedly endorse Mr.Schuelke without a moment's hesitation.
-Sara Hickman
FREE CONSULTATIONS. NO FEE UNLESS YOU WIN