Don't let an innocent
mistake ruin your car
accident claim.
We are tired of seeing car wreck victims being taken advantage of by insurance companies, medical providers, and other lawyers. That's why we're doing what we can to help you avoid those problems.
Austin Car Accident Lawyer
According to the National Highway Transportation Safety Administration, over 2.5 million people are injured and over 40,000 killed each year on our nation's roadways. Sadly, Texas accounts for ten percent of the nation's fatalities from auto accidents and car wrecks.
At Schuelke Law, we have successfully represented numerous individuals in auto accident claims. Unlike many attorneys who handle a high volume of car wrecks in a "mill" practice, we strive to represent only a few individuals and provide them the best service possible. And we also strive to stay on top of the law. Car wreck litigation features a number of surprising complications, and you want an attorney that knows, for instance, the latest arguments in the "paid and incurred" fight, what arguments best support extra-contractual damages in uninsured/underinsured motorist litigation, and what arguments can best be used to minimize any subrogation liens out there.
To find out more about the process, please call us for a consultation (512-476-4944) or fill out the "Quick Case Inquiry" form on this site. Otherwise, to help you understand this process, we have included links to several pieces of information.
Holding Wrongdoers Accountable
We take pride in protecting clients from insurance companies that seek to take advantage of them. To this end,we believe knowledge is key. We've written our FREE book HOLDING WRONGDOERS ACCOUNTABLE: Avoiding Mistakes That Can Ruin your Accident Claim. We want you to have this information even if you don't intend to hire a lawyer (and the book even discusses when you might be better off without a lawyer) or if you have already hired another lawyer. So if you or a friend or a loved one has been injured in a car wreck, please order a copy of this book.
We've also provided a lot of helpful information on this website. For example, our car wreck video series answers a number of typical questions that arise in car wreck cases. We also have tips on resolving your property damage claims, information on personal injury protection and uninsured motorist coverage, tips for being a good client to help handle the claim, and information on the general steps in a personal injury claim.
Holding Wrongdoers Accountable
Learn more about car insurance in Texas and what you can do to avoid common accident claim mistakes with these free resources.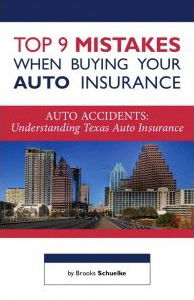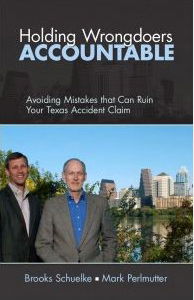 If you have been injured, you need to know what you may be facing. Here you can find short articles describing the major phases of most personal injury claims. Each claim is different, which means yours may not follow the process exactly as laid out. These are general rules that should help you get a basic understanding of the process.
Information Centers Don't settle for less no fee unless you win talk to an attorney Stages Of A Personal Injury Claim: The Investigation & Healing Stage In most cases, our clients come in to see us shortly after their accident. Both of us have jobs at that point. You get better and document injuries You…
Read More
LEARN MORE ABOUT AUTO ACCIDENTS

Brooks Schuelke was a huge asset. I wholeheartedly endorse Mr. Schuelke without a moment's hesitation.
- Sara Hickman
FREE CONSULTATIONS. NO FEE UNLESS YOU WIN
There are three requirements in every personal injury claim. 1. Liability To prevail on your personal injury claim, you must show that the defendant – the person you're suing – is liable for the claim. That means you must show that the other person did something wrong that caused your harm. Most personal injury cases…
Drunk driving is dangerous; no one can dispute that. Despite the well-known dangers of driving under the influence, motorists continue to get behind the wheel after having too much to drink. In fact, there was a DUI accident in Austin not too long ago involving a family of four whose vehicle was hit by a…