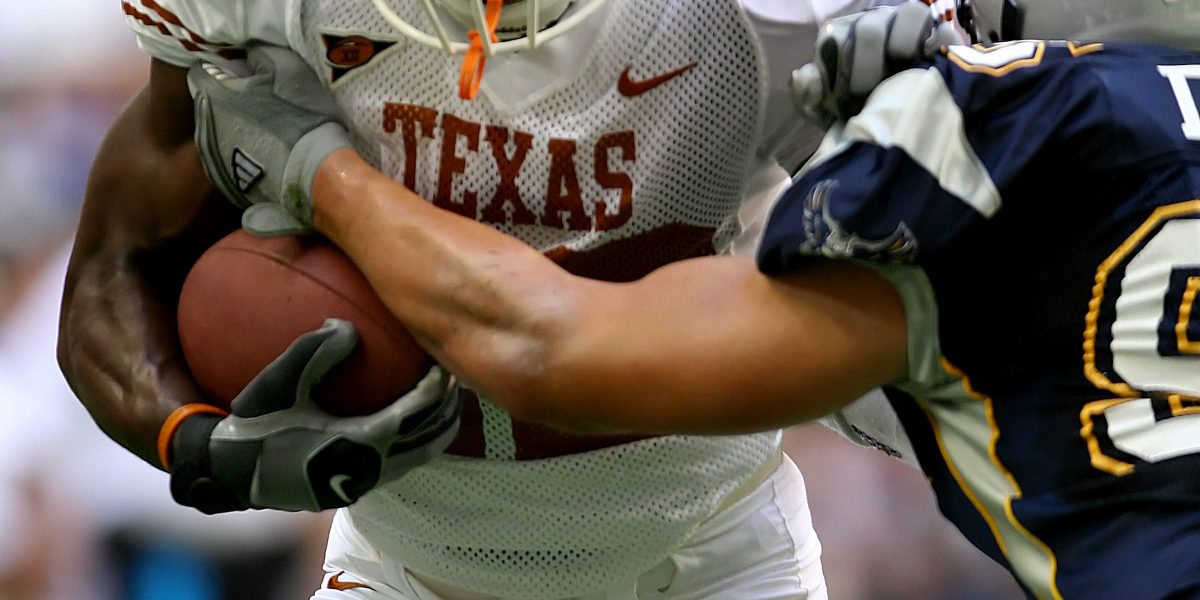 U.T. Looking To Cut Football Brain Injuries
My University of Texas football team hasn't been on the cutting edge of winning the last few years (and we're hoping that's changing), but we are on the cutting edge of trying to protect players from brain injuries.
It's no secret that an increasingly difficulty issue in football is the rise (or at least heightened awareness of) brain injuries suffered by players.  There are some things that can be done, such as teaching proper technique and making sure that helmets are state of the art, but until now, what a school or coach can do to protect kids has been largely limited.
Now however, Riddell and Texas are taking a big step towards safety by including monitoring devices in players' helmets.  Starting this year, all University of Texas players' helmets will have sensors that send signals to the trainers' hand held devices when the player sustains a significant hit in the head.  The trainer can then monitor the player and look for signs of a concussion or head injury.  Texas will be the first Power 5 school to provide this technology to every player.
This is important.  While concussions are bad, one of the biggest risks in sports is known as second impact syndrome.  Second impact syndrome occurs when a player sustains a significant blow before the brain has healed from the original concussion.  The second impact, which can occur minutes, days or weeks after the first concussion, typically causes much more severe problems than the original impact.    While some concussions are obvious, some people don't show signs of symptoms until hours or even days after the event.  Thus, the ability to monitor the impact of a hit in real time, will make it much easier to look for problems in real time, minimizing the risk of second impact syndrome.
Now, if we can only find some technology to help us find a few more wins each year…..
For 20 years, our personal injury clients have trusted us to help get them the benefits they deserve.