Personal Injury Claims: What If My Medical Bills Exceed The Policy Limit
Whether you have a car wreck, on-the-job injury, slip and fall, or any other personal injury claim, your claim will usually be paid by an insurance company. Unless you have a claim against a large commercial business (think Walmart), then you're only going to be able to recover from the defendant's insurance policy.Unfortunately, insurance policies don't pay unlimited amounts. Policies come with a "policy limits", the maximum amount that the insurance company will be liable for in any claim. Except in rare circumstances, that limit is the most the insurance company will ever be required to pay, no matter how bad you're hurt. (For a more detailed article on policy limits, click here.)
In some circumstances, a client's medical expenses can exceed the policy limits. What do you do then?
Generally, there are two potential courses of action. First, if you health insurance, then health insurance will pay most of your medical expenses. Unfortunately, you typically have to reimburse your health insurance company for the amounts that it has paid. When these medical expenses exceed the policy limits, we will typically negotiate the amount you have to pay back to the insurance company so that we can minimize that amount and put as much money as possible back in your pocket.
Alternatively, if you don't have health insurance, then those bills are likely still outstanding. In that case, we'll negotiate directly with the medical providers. We can usually work something out. In these cases, the medical providers usually know, especially when the bills are high, that people don't have the financial resources to personally pay large healthcare bills. Thus, they know that the best way to get it is out of a settlement. So often, we'll be able to negotiate a resolution where the medical providers are accepting pennies on the dollar. The medical providers know that something is better than nothing, even if that something isn't very big.
There are, of course, other ways of solving this problem, but these answers settle most of the problems.
PERSONAL INJURY INFO CENTER
Holding Wrongdoers Accountable
Learn more about car insurance in Texas and what you can do to avoid common accident claim mistakes with these free resources.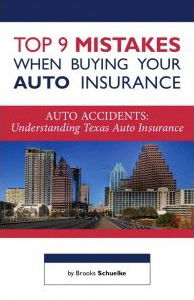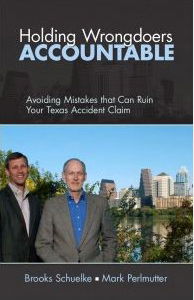 Brooks Schuelke was a huge asset. I wholeheartedly endorse Mr.Schuelke without a moment's hesitation.
-Sara Hickman
FREE CONSULTATIONS. NO FEE UNLESS YOU WIN