What to do after a car wreck
Following a car wreck, people are usually in a panic about what to do. But your actions following a car wreck can make a difference in your recovery in any future claim. Therefore, it's important to know what to do in the days and weeks following your wreck.
AT THE SCENE:
---
In some accidents, your injuries are so severe that you can't take any action at the scene. But in general, there are a few things you should do at the scene, if possible.
1. Call 9-1-1. It is important that you have a police officer at the scene to fill out the necessary paperwork. Some insurance companies are skeptical of claims if no police officer is called. Additionally, while the people who hit you might be nice that day, people have a way of changing their story as time goes by. It is more difficult for the other driver to change his or her story if the officer has properly filled out the report and documented the drivers' descriptions of the wreck.
2. Get names and contact information for any witnesses. Even if the police show up, most police officers do not get the names and numbers of most of the witnesses. If you don't get contact information for the witnesses while you are all still at the scene, it can be difficult, if not impossible, to find them later.
3. Take photos. We all know a picture is worth a thousand words. If possible, take pictures at the scene of the vehicles involved in the wreck, the site of the accident, any debris left in the roadway, any skidmarks, and any other evidence that you think might be useful at a later date. Once you leave the scene and it's cleaned up, you might not have another opportunity to obtain that type of evidence.
AFTER THE SCENE:
---
1. Get medical care as needed. If you think you might be hurt, go see a doctor. When you see the doctor, make sure to fully explain your injuries. Most insurance companies today use computer programs to evaluate claims, and the computer programs only use information that is contained in medical records. Unfortunately, when people go see doctors, they are often intimidated or under stress, and the patients don't tell the doctor about all the problems the patient is having. In many cases, I suggest writing a list of problems and then taking that list to your doctor. Taking a list will help make sure that you don't forget to tell your doctor anything.
2. Follow your doctor's advice. It is important to follow your doctor's advice. If the doctor tells you to attend physical therapy, then attend physical therapy. If the doctor tells you to do home exercises, then do the home exercises. If the doctor tells you to follow up at a later date, then follow up. Following your doctor's advice will give you the best chance of recovering from your accident. Additionally, insurance companies and their lawyers are just looking for reasons to not pay you the full value of your claim, and they'll use any failure to follow your doctor's advice as an opportunity to short-change you.
3. Document your injuries and limitations. If you have visible injuries, such as bruising, swelling, or injuries that require a cast or brace, take pictures to help document the extent of your injuries. Those photos can be invaluable in helping tell an insurance company or a jury about the extent of your injuries.
Additionally, document how the wreck has affected you. In almost all cases, you will be asked to tell an adjuster or a jury how the wreck has affected you and your family. If you document that type of information — through a diary, journal or other list — during the process, you'll almost always do a better job than trying to remember the affects several months or years down the road.
While I don't have any studies to support it, I am convinced that clients who document their injuries are able to achieve better recoveries than those who do not.
4. Don't settle your claims too early. Many insurance companies make a practice of the "swoop and settle," a tactic where they try to entice you to settle your claims before you know the true extent of your injuries. Don't be a victim of this tactic. Generally, you should wait to settle your claims until you have healed or your doctor has told you that you're not going to heal, but you've made as much progress as you can.
5. Don't agree to a recorded statement. Insurance companies always ask you for a recorded statement. Unless you're making a claim on your own policy for uninsured/underinsured motorist, personal injury protection, or MedPay, you don't have to give the statement. The statement is just another way for the insurance company to try and convince you to say something that compromises your claim.
6. Talk to a personal injury lawyer. Most of us give free consultations. Don't settle your claim without knowing your rights and how a settlement might affect those rights. We routinely see claims where unrepresented victims tried to settle their claim without using a lawyer and it ended up costing them significant sums. Additionally, if you try to settle your claim without a lawyer, you might make a mistake that hampers your ability to make claims with any underinsured motorist policies, negotiate with subrogation carriers, etc. At a minimum, take a free consultation so you minimize the risk that you make a mistake.
AUTO ACCIDENT INFO CENTER
INSURANCE COMPANIES DON'T WANT YOU TO KNOW:
Insurance payouts to people injured through negligence are
3.5x Higher
with an attorney
Settlements for auto accident victims are
40% Higher
with an attorney
Holding Wrongdoers Accountable
Learn more about car insurance in Texas and what you can do to avoid common accident claim mistakes with these free resources.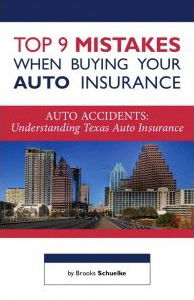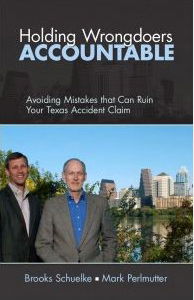 Brooks Schuelke was a huge asset. I wholeheartedly endorse Mr.Schuelke without a moment's hesitation.
-Sara Hickman
FREE CONSULTATIONS. NO FEE UNLESS YOU WIN