Car Wrecks: What Should I Bring To My First Meeting With A Lawyer?
You should bring everything you think is relevant, and probably more. We always want too much information rather than not enough. In an automobile accident claim, you should consider bringing the following:
1. ACCIDENT REPORT. In most car wreck cases, you'll have either the short blue or brown form filled out by the parties at the scene or the full accident report from the investigating officer. Whatever you have, bring it.
2. PHOTOS/VIDEOS. If you have photos or video of the accident scene, the other parties, or your injuries, then bring those in. Photos can be priceless in helping tell your story.
3. A LIST OF DOCTORS/MEDICAL PROVIDERS. Prior to your consultation, you should prepare a list of doctors and medical providers who you have seen for the wreck We're going to ask you for that in the meeting. Instead of you being put on the spot and trying to think of those items off the top of your head, try to prepare the list in advance. I've found that clients who prepare the list in advance (without the stress or being rushed) do a much better job of naming everyone that needs to be on the list.
4. MEDICAL RECORDS AND BILLS. If you have any medical records or bills, bring those to the initial meeting.
5. YOUR HEALTH INSURANCE POLICY/MEDICARE or MEDICAID INFORMATION. It might not occur to you, but it helps to have your health insurance policy. Because of subrogation principles, your health insurance is probably going to be asked to be reimbursed for any medical expenses it pays on your behalf. The same is true for Medicare, Medicaid, VA Benefits and any number of other groups that pay for your medical care. To help us prepare for your subrogation claims, please gather your health insurance policy, Medicare or Medicaid records, or any additional information that you think might help us pursue those subrogation claims.
6. YOUR AUTOMOBILE INSURANCE POLICY. Again, you might not think about this, but we want your automobile insurance policy. We'll need that policy to help you determine whether you have Personal Injury Protection (PIP) or Uninsured/Underinsured Motorist Coverage (UM/UIM), which may help you with your claim.
7. CORRESPONDENCE WITH THE INSURANCE COMPANY/DEFENDANT. If you have already started receiving communication from the insurance company or the other side, we'll want to know about that. Please bring that information to the first meeting.
As the case goes on, we'll need more information, but this is a good starting list. If you have any other information that you think we will need, feel free to bring that as well.
AUTO ACCIDENT INFO CENTER
Holding Wrongdoers Accountable
Learn more about car insurance in Texas and what you can do to avoid common accident claim mistakes with these free resources.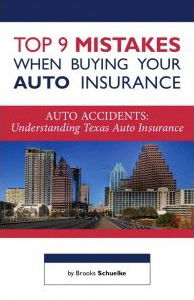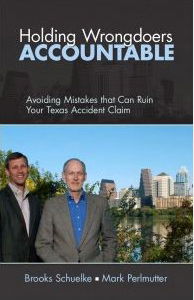 Brooks Schuelke was a huge asset. I wholeheartedly endorse Mr.Schuelke without a moment's hesitation.
-Sara Hickman
FREE CONSULTATIONS. NO FEE UNLESS YOU WIN