Order Holding Wrongdoers Accountable
Please enter the information below to receive your free copy of Holding Wrongdoers Accountable:
"HOLDING WRONGDOERS ACCOUNTABLE: Avoiding Mistakes That Can Ruin Your Texas Accident Claim"
In this straightforward and comprehensive book, we have detailed the top ten myths about personal injury claims, detailed the sixteen mistakes that could ruin a Texas injury claim, and describe what a personal injury attorney can do for those of you who have suffered injury or loss.
If you are in the unfortunate position of dealing with serious injury or loss, please order a copy of our free book to help protect you.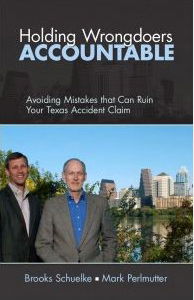 For 20 years, our personal injury clients have trusted us to help get them the benefits they deserve.