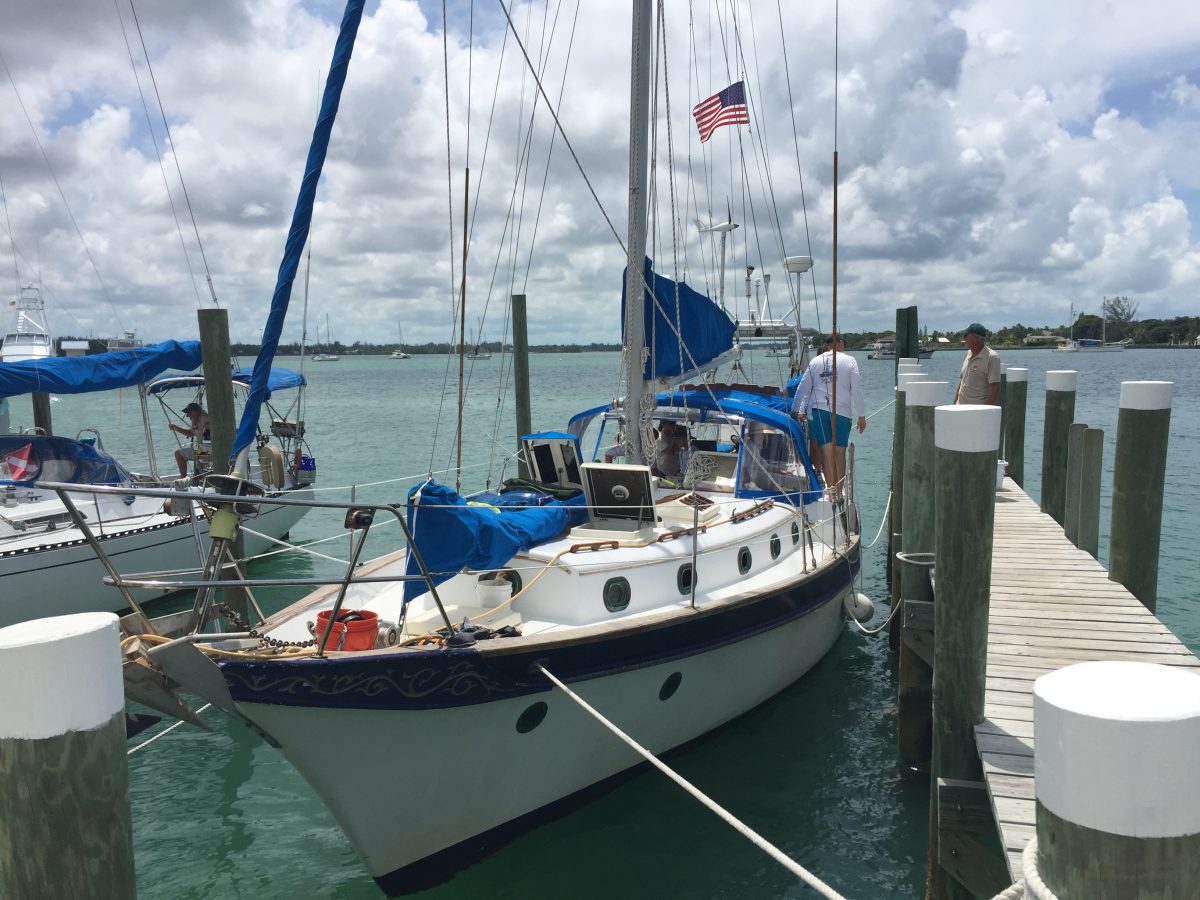 Sea Base Bahamas 2018 Review
I'm using the space a little differently today.
My son and I recently returned from a boy scout trip to Sea Base Bahamas.  I helped plan the trip for the troop, and in the planning, I didn't find a lot of reviews or resources for the Sea Base Bahamas trip.  For Philmont,  there are literally hundreds of articles and even books on how to prepare.  But there was almost nothing out there for Sea Base Bahamas so I wanted to put this together to let you know what worked or didn't work for us.
Packing
Most of our questions were about what we should bring or not bring so I'm going to start with packing.  From experience, I know that scouts bring too much junk on summer camp trips.  We repeatedly emphasized to our boys that they should stick to the recommended packing list.  But we found even thatlist  led to some unnecessary things.
Bags — For most of our summer trips, we include appropriate luggage as part of the trip.  We find that if we all have matching luggage, then it's easier at the airport, and getting a smaller bag limits the boys from bringing extra stuff. For this trip, we bought each of the participants a Texsport Sportsman's Hydra Duffel.  (I bought them directly from Texsport, who we have used on other trips for duffel bags, but you can buy them on Amazon here.).  I liked the bags.  They stood out at the airport so we could keep stuff together, they were water resistant, and they stacked nicely.  The one thing I would do differently is to buy 8 colors of ribbon so that 1 person per boat had their own color.  I would then have the kids tie pieces of the ribbon to each handle on the bag.  When we were on the boat, the bags were thrown in a closet.  Inevitably, the bag you needed was on the bottom of the stack, but at least with colored ribbon, you could pick out which of the bottom bags was yours.
Our rule was that every participant had to fit everything in the bags (clothes, sleeping gear, etc).  The bags were fine for this.  In fact, my son and I were each able to fit all of our Sea Base gear, snorkels and masks, a baseball glove and baseball each (pitchers playing summer ball need to be worried about arm care and staying in shape), and extra clothes for the three extra days we stayed in the Bahamas with family at the end of the official Sea Base trip.
One caveat, technically, the bags are bigger than carry on dimensions, but you shouldn't need to fill them and they can have space to squish into a container if you're called out on it.  I don't think anyone on our trip had any issues, but one dad did express concern.
Sleeping — Each of our kids brought a small blow up sleeping pad to sleep on and a sleeping bag liner/sheet.  Several of us used the Vumos sleeping bag liner because it was cheap, got good reviews, and had a full length zipper.  Most kids also had some small pillow.  No one had issues, but the captain did warn us that some of the blow up pillows are light and have been know to blow off the boat.  I personally took a very small real pillow.  The kids all slept on deck, I slept in the cockpit on a bench, and the other father on our boat slept down below on a settee in the dining area.
Shoes — We had a lot of questions about what types of shoes to bring.  Most of the questions were a waste of time.  The packing list suggested tennis shoes and a pair of water shoes.  These were unnecessary. My son and I both took a pair of flip flops and a pair of Chacos.  From the time we left home for the airport until the time we returned, my son never wore anything other than his Chacos.  I wore flip flops most of the time, though I did throw on the Chacos for one day since I took them.  The captains required you to go barefoot on the boat so shoes were just for travel and visits to the various cays.
Sunscreen — The program requires reef safe sunscreen.  We did a lot of investigation and ultimately decided on thinksport sunscreen.  It seemed to work well.  We had each kid pack a 3 oz bottle in their carryon liquids bag and then we bought two larger 6 oz bottles per boat in the one checked bag we used for the first aid kits.  We had plenty of sunscreen.  In fact, we're still trying to give leftovers away.
T-shirts — Our troop does custom Tshirts for most summer camps.  For this trip, we had our shirts done on white long sleeve Hanes cool max SPF 50 shirts.  I chose white because I thought burnt orange (our other troop signature color) would be too hot.  Some participants thought white was a bad choice because it showed too much dirt.  On our boat, we all basically just wore these two shirts the entire time.  My son had two bathing suits and two shirts he wore the entire trip.  He had one bathing suit and shirt he would wear in the water, and then the other bathing suit and shirt that he'd change back into when we were back on the boat.  In our experience, the SPF protection worked.  We didn't have any sunburn issues. Here's a link to the shirts if you're interested.
The Trip – What You Care About
We started our trip on a Sunday, with most of our group flying out of Austin to Fort Lauderdale and spending the night in Fort Lauderdale.  The next morning, we flew Silver Airlines into Marsh Harbour.  We hopped in a few taxis and headed to the Conch Inn and Marina, where we met Kim.  She could not have been nicer.  We gave her our paperwork, and we headed off to grab lunch while she checked to make sure we filled out all the BSA paperwork properly.  We split the troop up (we had 23 total participants spread out over three boats) so we didn't overwhelm any of the small restaurants on the water.  Our group ate at Snappas and enjoyed it, especially the kids who had their first experience with conch fritters.
We returned to the marina a couple of hours later, got our instructions and boat assignments, and met our captains.  Our captains were Captain ChiChi and Captain Jim.  We thought they were great throughout the week.
Shortly after boarding, we got several instructions, and then we headed out.  The first night, the captains made us dinner of sloppy joes.
The typical pattern for the week was that we'd wake up, make breakfast, clean up, and sail or motor (depending on the wind) to our destination, have lunch, then go ashore to explore.  We'd then return to the boat, have dinner and typically spend the night on the boat wherever we were anchored or moored.
On Tuesday, we started by having breakfast and then heading over to Mermaid Reef, where we did the first snorkeling of the trip.  We saw a couple of rays and, of interest to my son, several reef balls (his Eagle project involvese the creation of artificial reefs).  We then returned to the boat and headed over to Man-O-War Cay.  We had quick sandwiches on the boat before taking the dinghy over to Man-O-War.  We walked through the settlement, had ice cream, and spent a couple of hours on the beach.  We then returned to the boat for a dinner of grilled chicken breasts, corn and mashed potatoes.  Here's a key note to the dads.  Before you go, ask your wife if she wants a bag from Albury's Sail Shop.  My wife wanted one but didn't know we would visit there.  SInce she never told me, I didn't get her one.  And now, it would take another trip down there to get her a bag.
On Wednesday, we woke up and the boys in charge of food for the day spoiled us with some frenh toast and sausage.  We then headed over to Hope Town.  We had hot dogs for lunch as we were cruising there.  In Hope Town, we toured the town, had some conch fritters at Captain Jack's, and then found some ice cream.  We again hit the beach for some fun and snorkeling.  As a treat, the other dad on our boat and I bought dinner for our kids back at Captain Jacks.
On Thursday, my son and I were chefs for the day.  We started off with pancakes.  Before we left Hope Town, we went and climbed the Hope Town light house.  We then cruised over to Great Guana Cay and walked over to Nippers.  We spent time at the restaurant, and then down at the beach snorkeling and swimming. There is a nice reef right off the beach.  If you swim past the first reef, the second reef is very nice.  We returned back to the boat that evening for Taco Thursday.
On Friday, we had breakfast of eggs and sausage before cruising to Treasure Cay.  This was a great day for my son and I since the rest of our family (who didn't want to be left out on a trip to the Bahamas) was staying at Treasure Cay.  They met us at the dock of the Tipsy Seagull, where we had snacks (more conch fritters), and I had the odd experience where my 18 year old daughter could legally have a drink at the Tipsy Seagull while I was on a boy scout trip and couldn't have a beverage.  After the snack, we headed over to the beach at Treasure Cay.  This is one of Travel + Leisure's 10 best beaches in the world, and it was stunning.  We spent the day at the beach with the other boys and my family before heading back to the Tipsy Seagull for quick SHOWERS.  Late in the afternoon, we headed back to the boat and headed off to Water Cay.  At Water Cay, we had a steak dinner on the boat.
On Saturday, we had a vote of whether we would get up early and go to Fowl Cays      National Park to snorkel or to snorkel and try to fish at Water Cay, where there was a bit of wreckage.  The boys opted to be lazy and we stayed at Water Cay.  This was a mistake.  The fishermen didn't catch anything, and the snorkeling was just okay (though my son and I did see an eagle ray — the only one we saw on the trip).  Later on in the week, after the scouts were done, my family went on a snorkel and diving trip to Fowl Cays, and it was fabulous.  I'm only a snorkeler, and I loved it.  My son is a diver, and he said it was outstanding as well.  If you are given the option on your trip to go to  Fowls Cay National Park, you need to go.
After our snorkeling, we got back on the boat and headed back to the Conch Inn & Marina.  Once there, the boys cleaned the boat, we all showered, and then we had dinner at Colors restaurant.  That night we returned to the boat for our closing ceremony and spent our last night on the boat while we were docked in the marina.
On Sunday, we got up early and most of the troop headed back home on an early flight.  Fortunately, my family was staying a few more days so my wife, daughter and the other family they were traveling with picked us up at the Conch Inn & Marina, and we started the rest of our trip.
Other tips and thoughts that we had after the trip
People were pretty unanimous that they only used one pair of shoes while in the Bahamas.  I didn't talk to anyone in our group who wore tennis shoes other than those who chose to wear them in travel.  As I said above, my son and I basically only used flip flops (me) and Chacos (him).
My son and I only packed one small REI camp towel each.  We rarely used those.  Several people on our boat packed large beach towels.  I never saw those used (though I'm not sure if people on our other boat used them).
My son and I basically only used two bathing suits and our two long sleeved shirts.  I wore a columbia fishing shirt down on the trip while flying to Ft. Lauderdale with the idea that I might wear it during the week, but I never did that.
Have one clean change of clothes in a ziploc bag for the trip home.
Each of our boats tipped our captains $150.  We had no guidance on this, and we couldn't find suggestions.  We finally just decided that each dad on the trip would chip in $50, and we divided that amount between the three boats.  I'm still not sure what is appropriate on this.
Decide what you're telling families back home.  There is a fine line between telling families back home what's going on and telling all the stories your kids would want to tell when they get back.  I think less information is better — let parents know the kids are okay — but I think it stinks if a kid tries to tell a parent a story after the trip and the parent has already heard what happened from a parent on the trip.
Before I found myself as one of the planners, the leaders had already chosen Sea Base Bahamas.  I was skeptical.  I have been to the Florida Keys several times, and I like it there.  Going to the Bahamas instead of the Florida Sea Base mothership seemed like a lot of extra work.  But I'm so glad we did it.  The Bahamas were beautiful, the people were wonderful, and the Abacos are the perfecct area  to sail.
For 20 years, our personal injury clients have trusted us to help get them the benefits they deserve.