N. Y. Yankees' Clint Frazier: Another Real Life Concussion Story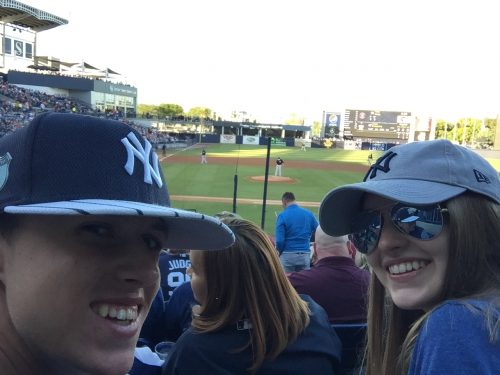 Those who know my family well know that my teen-age son is a baseball player and a huge Yankees fan. He buys the MLB.TV app so he can watch Yankees games (often at school – I'm not sure how that works), and we've even been lucky enough to attend a few spring training games in Tampa the last couple of years (those are my kids in the spring training picture there).
Because of that, I've followed the story of Clint Frazier closer than most, especially people in this part of the country.
In the summer of 2017, the Yankees entered a big trade with the White Sox to get Frazier, who was the 5th pick in the MLB draft and a rising outfield star in the White Sox minor league system.
Frazier was called up to the Yankees MLB team in 2017 and got some time, and he even did pretty well. In fact, he was just the second Yankee to get 9 extra base hits in his first 15 games, something only done before by some guy named Joe DiMaggio. But as well as he did in 2017, 2018 was supposed to be Frazier's year.
Unfortunately, it didn't happen.
On February 24, 2018, during a Spring Training game, Frazier made a great catch in the outfield before he fell down, eventually hitting his head on the bottom of the outfield fence. It seemed like a fairly minor hit — Frazier even stayed in and finished the game. (You can watch video of the catch in the article here.) But after the game, Frazier was diagnosed as having had a concussion. In the day or so following the play, team executives reported that they intended to hold Frazier out a couple of days, but that it wasn't anyhing serious.
The executives were wrong.
Frazier battled the concussion and its residual symptoms for almost a year, eventually costing Frazier almost all of the 2018 baseball season and leaving his memory with black holes — large parts of 2018 that he can't even remember. Unfortunately, Frazier described symptoms that many of my clients experience from their own head injuries sustained in car wrecks or falls or other accidents.
In a recent story in the New York Post, Frazier opens up about his injury and the lingering problems that he never expected. For example, he states:
I felt like I wasn't physically there, like somehing I couldn't get out of. I was scared. There were times I'd be driving, like I was on auto-pilot or something. I'd look around and think, "How did I get here?"

…

You ever been on a treadmill, going really fast, and then suddenly hop off? There's that brief momemnt when you don't really feel your feet. That's what I felt like all the time.
The frustration that Frazier felt was similar to the frustration my clients feel. As the article states:
Frazier's real demons, though, have been harder to calibrate. There's no diagnostic tool to measure a concussion's severity, other than a patient's own description of the symptoms. And there's no medicine a doctor can prescribe other than rest and patience. A pitcher recovering from Tommy John surgery has a pretty good idea how long it'll take to get back on the mound. Not so with a head injury.

Frazier soon realized trying to find a cure was like trying to catch dollar bills dropped from a skyscraper. He grasped for a breakthrough which never came, continuing to suffer with symptoms while the season slipped away.
Fortunately, there is good news. Frazier's story isn't over. There is a new beginning. In the last few weeks, Frazier has been cleared to return to baseball as long as he follows some rules: no sleeping past 9:30 a.m. (ever); no drinking alcohol; and getting regular exposure to extremely loud noises to prepare him for the decibel levels of noise he'll encounter in Yankee Stadium and on the road.
Frazier will report to Yankees' spring training in Tampa soon for the start of the 2019 season hoping to experience the life and enjoy the game he loves to play. Hopefully, he'll be successful and serve as a beacon of hope to all of our clients who are also living their own versions of Frazier's story.
For 20 years, our personal injury clients have trusted us to help get them the benefits they deserve.