David Hamilton, Texas Baseball, and Scooter Injuries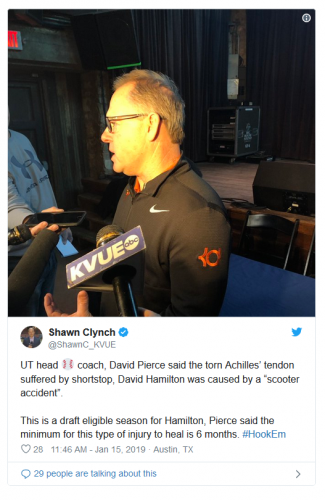 Today I learned that my "real life" and my law life intersected in a not so fun way.
I'm a huge Texas sports fan, and in particular, Texas baseball fan. My dad played baseball at UT, and while I was at UT, some of my best memories involved sitting in the sun and doing a little "studying" at Disch-Falk Field.
This week, David Hamilton, the Texas starting shortstop and probably the best player on the team, got hurt. He tore his achilles tendon and is out for the year.
When I heard the news, I was a little panicky. Not because Hamilton is important to the team, though he is. But because he and my son (also a baseball player) work out at the same gym. For the sake of the guys at the gym, I hoped that David didn't get hurt there.
Today, I learned he didn't. Instead, he was hurt riding one of those scooters that are invading Austin.
I've written about the scooters before, but I think they are a lawsuit waiting to happen. The number of injuries are on the rise. In fact, it's so bad here in Austin that the Centers for Disease Control has sent some of its scientists to Austin to collect data and to study the problem. And these wrecks are serious too. Doctors at area hospitals are reporting numerous cases where patients have experienced injuries severe enough where the patients will require life-long care. As one doctor put it, hitting your head on a scooter fall is about the same trauma as being hit in the head with a baseball bat.
I also think there are a number of potential legal targets (I'm not the only one; I pass a billboard from a lawyer colleague every day on my way home that is advertising for scooter injuries). The first target would be the scooter companies. These companies give you a dangerous, motorized scooter without requiring or providing any training. We have several companies in town that have Segway tours. All of those start with a short training period. The scooter companies don't provide any training at all.
In other instances, there will also be claims against scooter drivers. If you've seen any scooters at all in your area, then you know how ridiculous some of the riders drive. Dangerous scooter drivers injure a number of other people who can potentially make claims against the scooter drivers and the scooter companies.
Depending on the circumstances, there might even be claims against property owners who allow scooters on their property. I know that several places, concerned about their liabilty and injuries, have started banning scooters. My daughter's university is a good example, having banned scooters shortly after the scooters started showing up.
These claims are still early in development, and it will be interesting to see how the courts sort them out.
In the meantime, I hope David Hamilton makes a quick recovery, and that the baseball team has another great year.
For 20 years, our personal injury clients have trusted us to help get them the benefits they deserve.